Finished Objects
Finally finally finally, some FO's to report. Since I have been done with clinicals, I have had some extra time. However, now I am on the hunt for a sonography job, and I have an interview Tuesday!!!! Let's hope it goes well so I can make better $, which in turn means a bigger yarn stash :)

Yarn: Sugar N Cream
Colorway: Yellow
Needle Size: US 8
Pattern: from Nifty Knit Dishcloths by Leisure Arts
A dishcloth that I made; easy to do and a good carry along project. And will look great in my house once we get it built! (once again, need a better job to pay for this house)
Amy's Scarf
Yarn: Berroco Hip Hop
Colorway: ???? they don't make this color anymore
Needles: US 11
This yarn is a "thick and thin" yarn and knit up very quickly I got the pattern from Berroco's website, and it's just a simple knit every row but very cute with all the different colors in the yarn.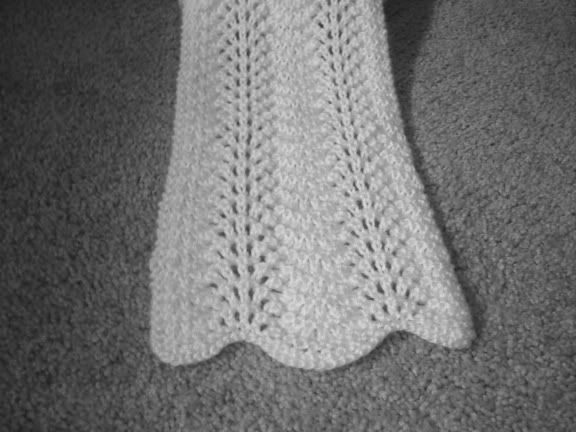 Yarn: Caron Simply Soft, 1 skein
Pattern: Fan & Feather from the web
Needles: US 8
Colorway: Off White
I made this scarf for my grandmother for her birthday. I like the Caron Simply Soft yarn; it's cheap, knits up so soft, and the scarf looked a lot more complicated than it is. The fan and feather pattern is so easy to memorize, I took this scarf with me everywhere while I was knitting it. It's one of those good travel patterns :)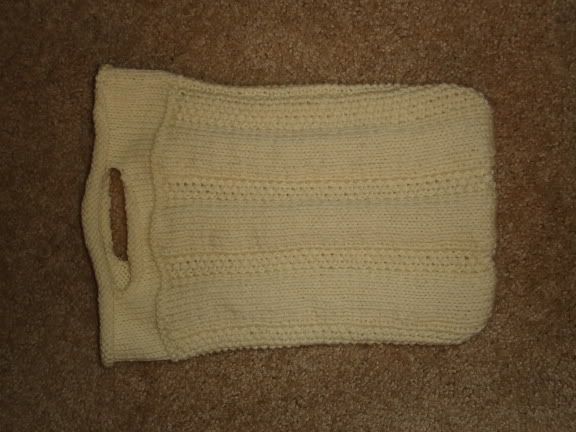 Yarn: Knit Picks Wool of the Andes
Pattern: Marina, from 25 Bags To Knit
Needles: US 7
Colorway: Cloud
I love this bag, but I think that I am going to put a liner in it so when I spill something in my purse I won't mess it up. This purse actually took me about a month to make due to decreased time, but actually when I got to work on it it went very quickly. Again an easy pattern to memorize (see the pattern here? no pun intended) so it was very easily totable!
Of course once I got done with all these FO's what was a girl to do? Immediately cast on for another project!!!!
Eventually this will be my boyfriend's sweater. I cast on while I watched the 1st season of GRAY'S ANATOMY whick I love love love!!!! This is Knit Pick's Andean Silk in Orange. The pattern is from Ann Budd's The Knitter's Handy Book of Sweater Patterns and so far I am in love with this yarn, because it is a silk, alpaca, wool blend and so so soft. I hope it gets worn, but I did say I wouldn't give it to him until we were married because of the curse of the boyfriend sweater. Scott did however reassure me that it would get worn and has already picked out a shirt to wear underneath. That's true love people!
Finally, just wanted to include a picture of my beautiful friend Heather, who we are teaching to knit in class. We've got to hurry though because graduation is 1 week and 6 days away!!! WHOOT!!!!